PHP Integrated Steel Mills Ltd is the largest pipe processing plant in Bangladesh. The plant is located in Feni, Bangladesh. It will be constructed in 2019 and will be put into operation in 2020.
The company purchased a total of 12 rail transfer trolleys in 2019. The rail transfer trolleys are mainly used to transport coils between the warehouse and the pipe-making machine. The batch of rail transfer cart is powered by trolley wires, which are located in the grooves in the middle of the track. , And have a cover for protection. The heavy tonnage of rail transfer cart ranges from 10 tons to 35 tons. In order for the factory to be put into production smoothly, our company sent sales personnel to the Bangladesh site to assist in the production for one month and then returned after the workshop stabilized. Customers are very satisfied with our service.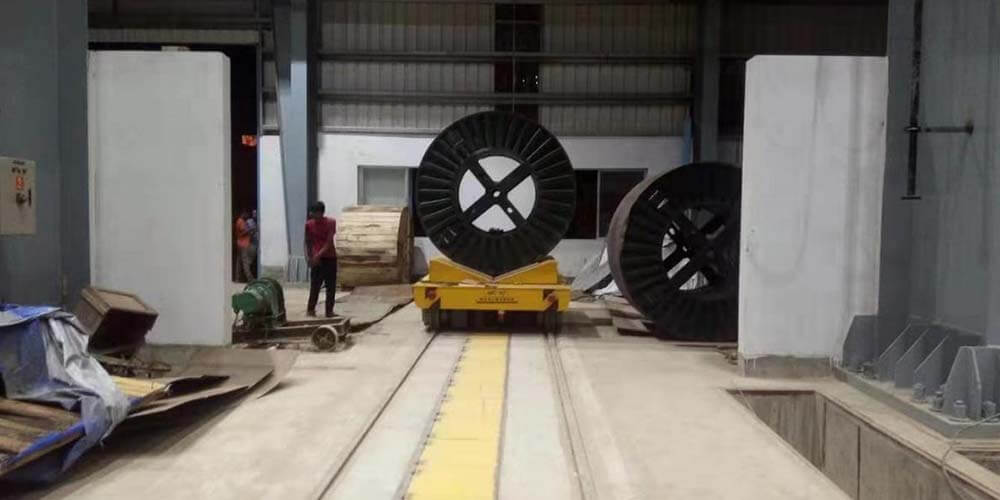 The working principle of the safety sliding contact line-powered electric transfer cart is to open a trench on the side of the track. The safety sliding contact line is installed in the trench. When the sliding contact line-powered electric transfer cart is running, the cover plate is lifted through the trench flip device installed on the transfer cart, and the cable is connected with the safety sliding contact current collector in the flip device. The sliding contact line-powered electric transfer cart is automatically returned to the ground through the rear cover. Can ensure the smooth passage of trackless transfer cart. The trench flat sliding line electric transfer cart is not limited by the running distance.